Some months ago I came across an ad for a digital business card that got my attention. As I updated my branding in 2021 at a time when we weren't networking face to face I hadn't updated my business cards yet so I thought this might be an option.
It arrived over a break from work within 48 hours of ordering (they actually did the design late at night when I ordered, I was stunned to find them responding so quickly with updates). It was consigned to a drawer only for me to finally activate it and set up the related website only last week. And, I have to say I love it!
As you can see in the photo it's designed to look good, it's quite sturdy and it's got my branding on one side with a QR code that I can use anywhere on the back. The QR code is one that would be easily used on my email signature, shared through a zoom or WhatsApp chat for example and it stays as up-to-date as my digital business card website.
Powered by NFC (Near Field Communication), it works on the same idea as contactless payment does. I simply need to place my card within an inch of another person's phone to transfer whatever contact information I wish to share. As it happens you tap or hover on the screen for iPhone and the back of the phone for Android. And the recipient must have NFC enabled on their phone too (settings / connections / NFC and contactless payments on Samsung).
The design process was simple and efficient and did I mention the price? For the card you see in the photo I paid £56.31 sterling of which £8.44 was shipping and that's a once-off fee too so for approx €63 I've got a card that sits easily in my wallet wherever I may need it. Unless of course, I opt for an upgraded option that is designed for larger corporations where perhaps one person will manage the cards for a team.
So what does it share, well this is a screenshot of the contact information I'm sharing when I tap my card – the profile photo, cover photo, social media icons, colour scheme is all yours to update.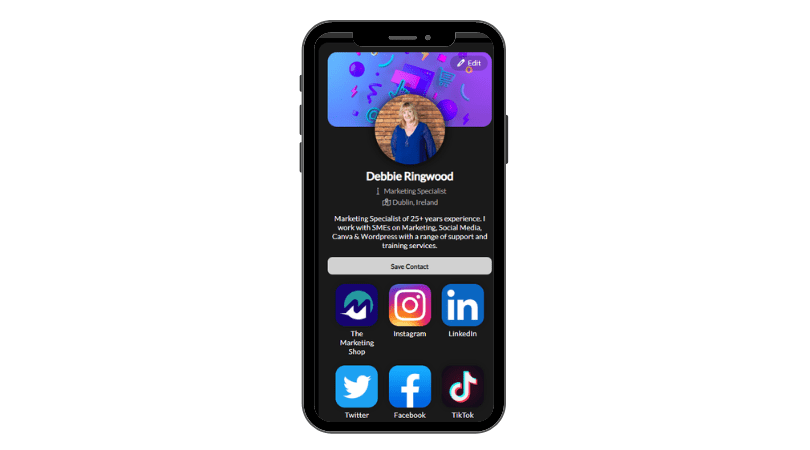 The link above with The Marketing Shop logo holds all of my contact information, the icons connect directly to my various social profiles.
What else is there to know? Well, it seems you can add any links or emails you want, there's a payment link or if you go for a premium plan you can look at lead generation forms too. You'll find analytics that shows how many times my details were shared.
And, worth a mention is the fact that I can have multiple profiles too so if I had more than one business for example I can deactivate this and switch to the alternative.
I should mention that there are a variety of materials available, I went with PVC and it's comparable with my bank cards so I expect it'll be quite durable too. Worst case, if I wanted an extra card it hasn't cost me a lot and if I was the type of person to easily lose things or I wanted I could simply buy more than one as there are discounts for multiple purchases.
So, how do I get one of these wonderful cards too?
Well, click here and see for yourself!

Debbie Ringwood is a Marketing Specialist with over 20 years of experience in B2B and B2C Marketing. She is a Graduate of the Marketing Institute of Ireland and the Digital Marketing Institute. She is a Linkedin Certified Marketing Insider, META Certified Community Manager, and Canva Champion.
Debbie supports, coaches, and trains businesses in Marketing, Social Media, Canva & WordPress along with her team, working with businesses at different stages of their journey.