Autumn is in full swing and that means there are plenty of opportunities for businesses to create engaging content for their social media channels.
First up, it's important to note that there are a number of key awareness themes for months and as of this post we'll be incorporating them into our monthly round-up because in many instances they might be appropriate for a content theme you'll run with for more than just a social media post.
October awareness monthly themes include;
Dyslexia Awareness Month
Fire Prevention Month
Breast Cancer Awareness Month
Domestic Violence Awareness Month
When it comes to more general themes for social media, we started to include these in September and they were well received so we're including these in addition to specific dates for every month now too:
Offer a behind-the-scenes look at how your business gets ready for the upcoming seasons of Halloween and Christmas.
Share a recipe for a seasonal dish or drink.
Host a competition or promotion with an autumn-themed prize (that should be related to your business!)
Introduce new products or services with an autumnal twist.
Share customer testimonials and success stories related to your business.
Share advice on how businesses can prepare for the end of the year/holiday rush.
Give followers a sneak peek of any upcoming changes or improvements to your business (new website, new location, etc.).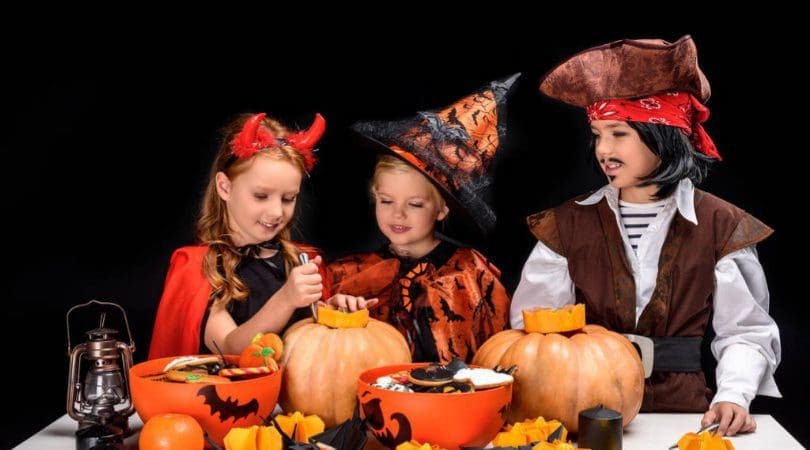 And, as we've always featured specific dates these are the options you might like to be aware of when it comes to October social media content ideas;
International Coffee Day – 1st October; perfect for hospitality businesses, entice your customers with a delightful coffee treat, and make sure to include photo and/or video online too.
International Day Of Non-Violence – 2nd October; a designated day since 2007, the birthday of Gandhi who was an inspiration in people to find ways other than violence to resolve issues. Find out more about this day on the UN website at https://www.un.org/en/observances/non-violence-day
Techies Day – 3rd October; those frequently misunderstood technical whizzes that keep the world moving have their own dedicated day which was launched back in 1998. How about a shout-out on your social media for your own technical team? Or if you're the techie maybe it's a day to treat yourself to a new gadget – makes for a nice social media or blog post too.
Vodka Day – 4th October; one that could work very well for bars or restaurants, why not launch a signature cocktail for this day? The thing to remember though is always to promote it responsibly so this is one that's best with a second opinion before you do anything.
World Animal Day – 4th October; a day to celebrate all animals that date all the way back to Italy in 1931, we're all asked to be mindful of our involvement with them. On social media, this is the perfect day to roll out those fabulous pet photos…
World Teachers Day – 5th October; these wonderful people who are part of all of our lives at some point have a designated day which is set aside to remind us of just how important their role is in society. Maybe a 'Teacher's Special' to mark it if you're a business with a lot of clients in this category?
Inbox Zero Day – 6th October; love the sentiment so if you've got tips to help this happen make this your day!
Beer and Pizza Day – 9th October; there always seems to be an abundance of themes that work for hospitality but yet again we'll mention this one as it works for lots of businesses in bars, restaurants, or food retail.
World Mental Health Day – 10th October; an important day and something that many businesses can support in one way or another. This year's theme is 'Our minds, our rights' and you can find out more about what's involved at this link or by following #WorldMentalHealthDay
World Porridge Day – 10th October; love it or hate it, porridge is one of staples of many a healthy diet, and as the weather changes it's a breakfast that sets you up for the day. For those in hospitality or retail if it's on the menu or the shelves it's the ideal special for that day. And if you're not in hospitality it might make for a social media engagement type post, a simple chat about how you start your day can work well in stories or your channel of choice.
Own Business Day – 10th October; a day to celebrate each and every single one of us who took that big step of creating our own business. It's a journey you don't take lightly but it's one that's definitely worthwhile. Whatever your niche this is a day you can give yourself a serious shout-out, you've earned it!
World Arthritis Day – 12th October; a difficult condition to live with, despite its existence for centuries we don't yet have a cure but there are a lot of different ways people find relief to suit. The focus is to raise awareness on this day, for those in healthcare whether it's medicine or complementary on this day you might like to consider even sharing information with your audience that might come in useful.
World Sight Day – 12th October; is not something that everybody can use in their business unless you happen to be an optician or in healthcare. It's worth a mention though and you can learn more at https://www.iapb.org/world-sight-day/
Universal Music Day – 14th October; is not something obvious to every business but if you can work with it, even by simply using a favourite tune on your social media (legally!) do as music is one area that connects people in all sorts of ways.
Global Handwashing Day – 15th October; over the past few years we've all been told repeatedly about why hand hygiene is so important and in addition to ongoing updates on this front, this awareness day has a place in all sorts of businesses. This year's theme is 'Clean hands are within reach'. Follow #globalhandwashingday for ideas find out more at this link.
World Food Day – 16th October; this is a day that was first marked in 1945 by the United Nations to highlight that whatever's going on in the world around us, there are far too many people who don't have adequate food supplies. There's a # for the day #WorldFoodDay and you can find ideas on how you might take part if you feel it's something you can support from your business, see the site at https://www.wfp.org/
Clear Your Desktop Day – 16th October; whether it's clearing your download folder, organising your apps or ensuring you've got your files in the right place, this date is a handy reminder to do something you'll be glad of at a later date when it comes to your productivity. Ideal if you're a whizz in this space, who doesn't love tips to make this work for them?
World Menopause Day – 18th October; if your audience and business is in this space it's absolutely important that you mention it. And remember, those who need to be informed whilst primarily being the females who go through this life stage, it's important that employers and family members are educated too so don't forget them if you do decide to post some tips. With a theme of 'cognition and mood' for 2022, you can learn more at https://www.imsociety.org/education/world-menopause-day/
International Gin & Tonic Day – 19th October; is yet another date for those in hospitality or retail to work with.
Apple Day – 21st October; here in Ireland the apple is a top pick at the moment. For those involved in catering or hospitality mark the day with a special bake or even a drink, if you're in grocery retail with Halloween fast approaching it's a peak period for fruit so why not run some sort of promotion around the humble apple?
Event Organisers Day – 23rd October; we think this is a very deserving day for those in the world of event management. Sometimes you have to be directly involved to really appreciate how many elements must be integrated for the perfect event and, where you've got somebody with experience to hand you really appreciate their value when the stress levels start to rise. If you know or work with somebody in this space give them a shout-out. If it's you in this space, give yourself a shout-out!
World Pasta Day – 25th October; another simple one to use if you're in hospitality or any sort of food-related business, something as simple as a dish of the day or sharing recipe tips makes for an easy post.
Cranky Co-Workers Day – 27th October; whoever might have thought for many even that challenging work colleague is something they'd miss when a pandemic leaves you all working from home? It's not something for every business but there are some ways this might work for certain industries in a light-hearted way on social media.
Mentoring Day – 27th October; we often don't realise the benefit of working with a mentor in some area of life until we've started the work and it's most definitely a day worth a mention if appropriate to your business.
Internet Day – 29th October; we take it for granted and it's part of how we work, live, and play but did you realise that despite it being in common use for the past few decades as the world wide web, the original internet dates back as far as 1969!? Have a look at this link http://info.cern.ch/hypertext/WWW/TheProject.html – this is how the first website appeared, quite different isn't it? The 29th of October marks the first time two computers managed to talk to each other, in your own business it's one day you can perhaps consider giving it a shout-out in whatever way works for you.
World Stroke Day – 29th October; an important one to highlight as this can happen without warning to any one of us regardless of age or fitness. It's important to be very aware of the signs and how crucial speedy treatment is too. This year's theme is 'Together We Are Greater Than' and you can learn more at this link.
Bank Holiday Monday – 30th October; this one is just for Ireland and even if it's just an update to opening hours or to wish people a happy long weekend it's one for every business (and don't forget, it's always a good idea to mention it early if you ordinarily open on a Monday or have international customers).
Halloween – 31st October; a big day for so many and in recent years here in Ireland it's really become a bigger event with many homes getting almost as many decorations up as you'd normally expect for Christmas. This works for lots of businesses, naturally anybody retailing fruit and veg will be a great fit but whether you're selling heaters or costumes, there are lots of opportunities for social media with Halloween – particularly if you're a fan like me!
So that's a bumper list of ideas for your social media content, or indeed your blog, this October. If you need help with creating a strategy or the actual content whether it's blogs, graphics, or video, get in touch and we'll be happy to assist – pop an email to debbie@themarketingshop.ie for details and a discovery call.

Debbie Ringwood is a Marketing Specialist with over 20 years of experience in B2B and B2C Marketing. She is a Graduate of the Marketing Institute of Ireland and the Digital Marketing Institute. She is a Linkedin Certified Marketing Insider, META Certified Community Manager, and Canva Champion.
Debbie supports, coaches, and trains businesses in Marketing, Social Media, Canva & WordPress along with her team, working with businesses at different stages of their journey.