Did you realise that LinkedIn turns 20 in 2023? That makes it older than some of the larger platforms such as Facebook (2004) or YouTube (2005). And, while it may not have quite the same numbers as these other platforms, it has a very clearly defined niche of its own that we're going to look at as we run through a little of its journey of two decades, so far…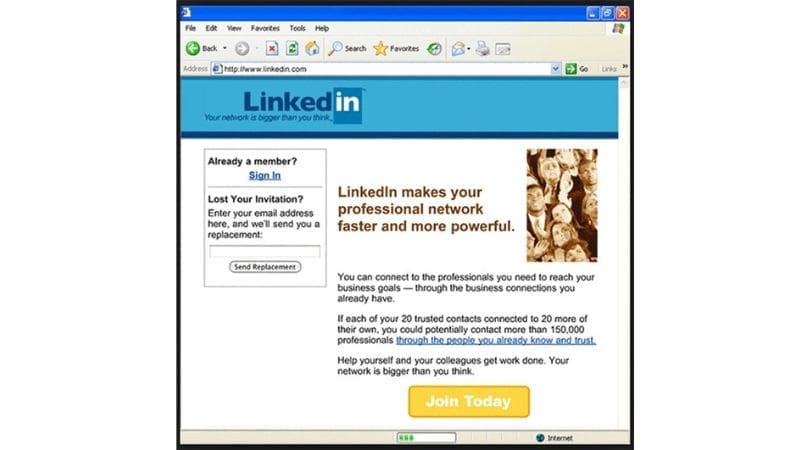 This is how LinkedIn looked when it started its journey, quite different from its current look and feel but then it was very typical of a time when the internet as we now know was only really making its presence felt. Like every business it has evolved and its growth has been phenomenal in that period also.
We've got an infographic from LinkedIn that you can view at this link, but for those who prefer just the edited highlights, these are the key dates on LinkedIn's journey to becoming the go-to professional platform.
2003 – LinkedIn launches.
2005 – the first ads appeared with sponsored content appearing in 2013, lead gen forms in 2017, video ads in 2018 and conversation ads in 2020.
2011 – LinkedIn reaches 100 million, in 2017 that becomes 500 million members.
2014 – LinkedIn acquires Bizo equipping them with enhanced ad targetting technology.
2016 – Microsoft acquired LinkedIn.
2017 – the LinkedIn Audience Network was established.
2020 – sees the launch of product pages and LinkedIn Live.  This was also the year the pandemic hit when there was a shift across the globe to online and LinkedIn hit a period of significant growth as businesses sought to work differently.
2021 – LinkedIn hits 10 billion in revenue and articles for pages launches.
2023 – LinkedIn Audio launches as it celebrates 20 years and what is now 930 million members.
LinkedIn has been on a wonderful journey, over the past two decades, one that shows no sign of slowing down either as they continue to enhance features and make more tools available to members such as formal training programmes, the inclusion of AI technology, enhancements for posts and pages a lot more too.
Realistically we may not all aspire to become a LinkedIn because let's face it, many of those reading this post are small to medium-sized businesses who are quite happy to stay (relatively) small.  However, what each of us can take from their journey is that they continually improved what was on offer, are always mindful of technological advances and are mindful of others in the social media space even where their ideal audience and content styles vary.
Congratulations LinkedIn on 20 wonderful years, may there be many more decades of success ahead!

Debbie Ringwood is a Marketing Specialist with over 20 years of experience in B2B and B2C Marketing. She is a Graduate of the Marketing Institute of Ireland and the Digital Marketing Institute. She is a Linkedin Certified Marketing Insider, META Certified Community Manager, and Canva Champion.
Debbie supports, coaches, and trains businesses in Marketing, Social Media, Canva & WordPress along with her team, working with businesses at different stages of their journey.