At The Marketing Shop we create WordPress websites and our theme of choice is DIVI, not just because it looks good but because it's perfect for clients to manage with ease in the years ahead too.
DIVI has been our theme of choice of many years, as an innovative company they've continued to deliver the style and functionality that their customers which include both you and me have come to expect. So, it wasn't a surprise when AI turned up as a new feature.
AI has been everywhere of late, CHAT GPT is the most high-profile platform and it's no secret to say that it has transformed many industries. With the technology that's now available, AI-apps are becoming available in all sorts of places and in this brief post for those of our clients who are on the DIVI platform, we're sharing a few resources that you should be aware of.
First up, what exactly is DIVI AI and where can you expect to find it? Well, you'll find it within the text modules of your website as this screenshot from our own website here at The Marketing Shop illustrates;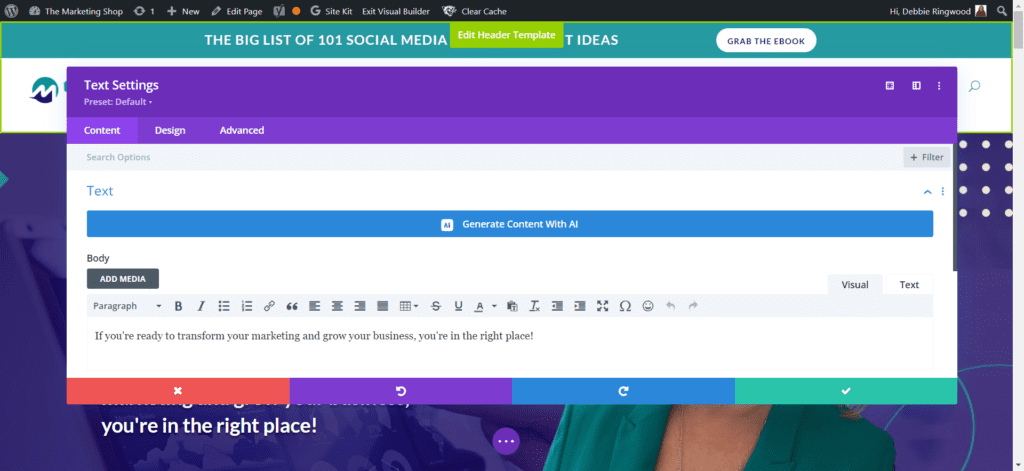 In this instance, we've used just the intro text from the top of our home page and clicked the 'Generate Content With AI' button.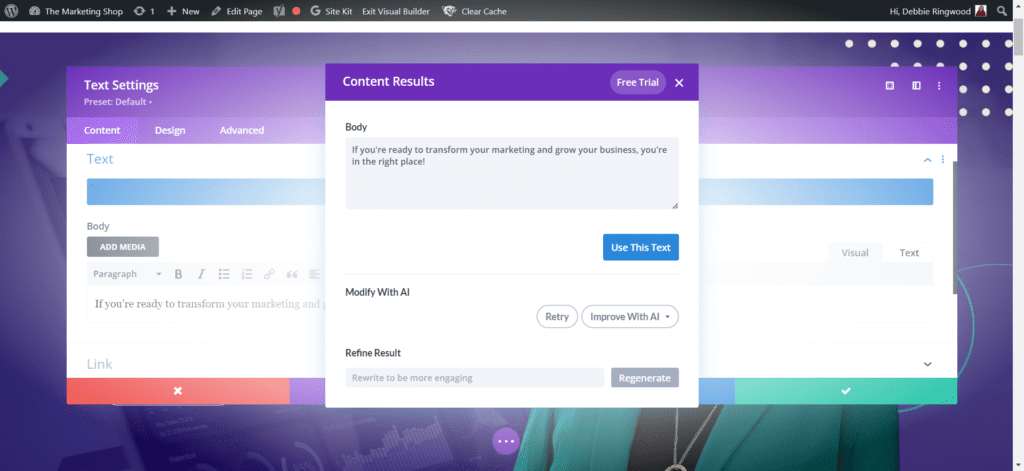 As this next example shows, we've asked it to re-write it, as you can see it's changed the wording slightly and in a situation like this it might be the handy tool we didn't realise we needed.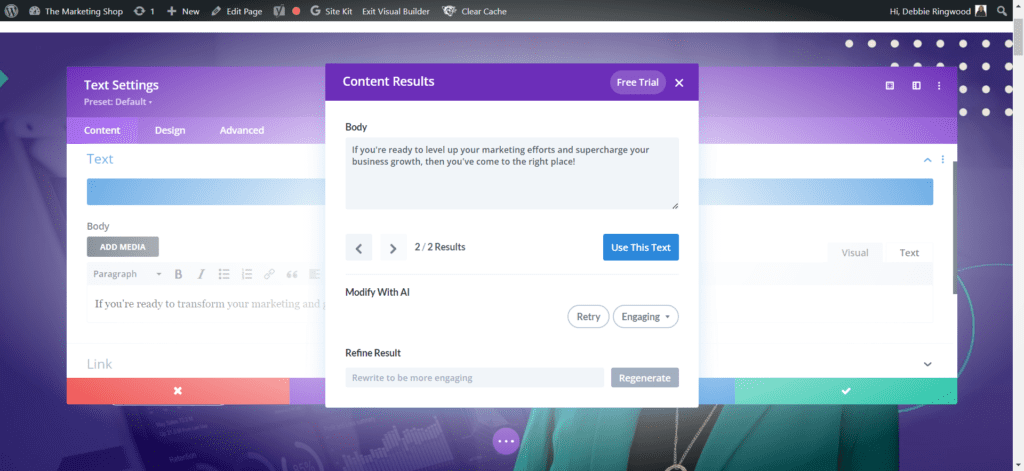 Something that you will also see on the screen though is a reference to the fact that this is in fact the 'Free Trial' version, I get to test this fabulous new feature and determine whether it's right for my business.
How else can you use it within a website?
Well, for those days when you need to create a blog post or there's an adjustment to your services that warrants a change to the text, this is the handy virtual VA that can help you perfect that content.
What else do you need to know?
Well, like everything amazing there's a cost attached and this is something that you will be responsible for. The DIVI theme that as a client of The Marketing Shop was added to your website doesn't come with a recurring fee, unless of course you decide to go in a new direction and migrate to an alternative theme.
What isn't included in your theme licence though is the DIVI AI as it didn't exist at the time your site was created and here at The Marketing Shop, although we don't plan to use it ourselves, even if we wanted to it can't be included in your website unless you purchase directly within your own site.
Interested in the full details of what's involved?
If you feel that DIVI AI is something you might be interested in for your business, you can read everything you need to know on the official site at this link.
What if you're not interested in AI at all?
Not everybody needs or wants to know about AI, in this instance you carry on as normal and your website will perform as it always has, providing of course you are making the updates you were advised to when we did our training? If you're not clear on why those updates are essential, there's a post right here on our blog that might be of interest to you.
Is it time for a refresh of your website?
For every one of us our business changes over time, whether it's new services or products, new locations, or even new hires to the team, there's always something to share. To ensure you're up to date you're ideally making these changes as you go but we know that even with the best of intentions people don't always update the plugins or themes and forget to check in on the comments, let alone create the content that's essential in order to grow your visibility and ultimately attract new customers to your site. And that's where we can help you.
At The Marketing Shop, we can arrange a 1:1 consultation with you in order to review what you might like to improve, we can make changes for you, or where you've taken on a new member of the team we can train them to make the best of the site for you.
We can also give your website a makeover and if we get started now, you might just have the new look ready for the new year!
What if your website isn't working for you?
In an ideal world, we'd all set up a website and it would attract the right customers for us automatically. However, just as we couldn't expect this to happen if we opened up retail premises, it's always going to take effort or in this case, marketing.
At The Marketing Shop, we create Strategies – Marketing Strategies, Digital Marketing Strategies, Social Media Strategies, Content Strategies, Email Strategies – the blueprints to success that will drive your business to growth.
Even better, once you know what's right for you we can support you with implementation or training, so you're not left with the information you need and a struggle to understand what you do next.
What will it cost?
Well, every business is different and your needs will vary depending on how hands-on you have been on your website since it was initially created. But, we will highlight that for many of our clients reading this post the Local Enterprise Office Trading Online Voucher may be an option that funds up to 50% of your project – even if you've already used one as you are entitled to TWO, read more on that here.
We're in the last quarter of 2023 at the time of writing this post and for many, we know it's a countdown to the busiest time of year whereas for others we know you're closing all the sales you can before the end of year, or the festive season brings the curtain down on this year.
Now is the perfect time to get your website and your marketing right for the next chapter of our lives so don't delay, book a consultation today at this link – together we can take your business to the next level.
Debbie Ringwood is a Marketing Specialist with over 20 years of experience in B2B and B2C Marketing. She is a Graduate of the Marketing Institute of Ireland and the Digital Marketing Institute. She is a Linkedin Certified Marketing Insider, META Certified Community Manager, and Canva Champion.
Debbie supports, coaches, and trains businesses in Marketing, Social Media, Canva & WordPress along with her team, working with businesses at different stages of their journey.